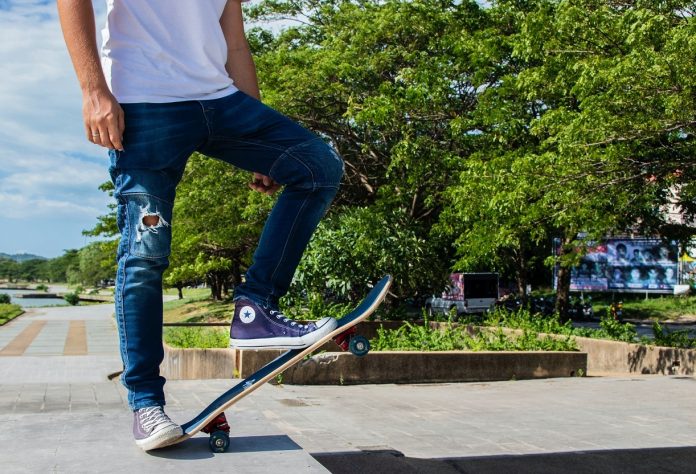 Ever wondered the logic behind the famous saying which states when you're in doubt then wear jeans? Over keen consideration, you'll be able to crack it well. The inevitable fact is that jeans pants blend well with any person possessing any body type. The sole reason why every second person we confront is dressed up in a dress code including jeans as an essential part.
Giving up on jeans is not at all a wise choice considering the plus points it comes with that include durability with up-to-date style. This is how denim jeans never go off the fashion rack no matter if all the other trends fall apart.To have a command on the best jeans for men, scroll here and get to know the modern guidelines to keep your dressing flattering.
Invest In a Good Quality Jeans Only Regardless Of Price
It's beyond doubt that renowned brands offer overpriced jeans that will make you worried about buying more than 1 pair of jeans. BUT would you be content if the 3 pairs of jeans pants that you want to pull out throughout the week all along fade out and look saggy? Obviously, you don't!
So, the wisest option of all is to save some cash to invest in heavy-duty jeans that don't look cheap and compliment whatever you wear it with.
Pull a Classic Look By Wearing a T-shirt and Jeans
Nothing beats the classic theme that doesn't look funky or fancy but spares no time in casting the long-lasting 'good impression'. T-shirts that have designs, prints, and logos often come pricey in the outlets and fail to mark the impression which plain T-shirts without no graphics last over the viewers.
Buy yourself some plain T-shirts like white, navy blue, gray, off-white, maroon, and black and wear them with denim jeans for men ranging from indigo to deep blue-gray.
Pair your looks up with some leather shoes, work boots, and some classy belt. Thank us later!
For Some Busy and Working Class Looks Wear a Dress Shirt With Jeans
Keeping it quick yet impressive is no longer a big deal. To cater the need for timeless attire picking, get your hands on light blue, light gray or plain white dress shirts having either checks or stripes on them of a light coloration.
Further, you can roll up the cuffs and unbutton them. Compliment this dress up of yours with some noticeable and heavy buckled belt.
Wear Jeans and Solid Colored Sweaters
If you're more into the fashionable dressing and don't pick sophisticated looks then you would surely fall for this choice. Wear denim jeans whether slim fit jeans or any other by choosing a dark combination of a V neck shirt, jeans with medium to the light-colored sweater. This will provide you with a decent dressing sense to grab the attention.
A Combo of Sports Jacket and a Plain Jeans
It's nonetheless something worth praising if the dressing combination is a blend of simplicity and fanciness. Sports jackets as a rule of thumb come with some casual looks. Either they have patterns, hues, or textured weaves. These look bearable and not overwhelming when maintained with the dark-colored jeans.
Don't Go For Long Sweaters and Jackets
Go with the trend but follow it if that goes well with you and your personality. Don't go for long coats often but choose jackets and sweaters that are short, meet the waist, or end right below it. This rule has to be followed with any jeans for men.
Concentrate On Your Shoe Game
Shoes are one of the main things to add charm to your dress code and often people tend to ignore it. Avoid having gym shoes with jeans but rather prefer leather shoes or canvas even if it's funky to be true.
Choose Jeans According To The Weather
Now that may seem like a total out of the theme point but it's valid beyond doubt. The whole taste of your dressing will suffer if you don't follow the color themes and materials of jeans according to the weather. Go for light, cool colors in summers, and wear dark and bold colorations in winters.
Polish It All With a Matching Watch
Adding a bit of accessory to your wardrobe never hurts. Accessories are not only bound to ladies but also serve men belonging to different classes. It all depends on the occasions, if you're going to the office, wear a neutral colored strap watch, not too fancy. This is a requirement even if you're not into looking at the watch over and over.
When Confused, Wear Neutrals
It's understandable that we often get short on the clothes for many reasons, be it for the unavailability of laundry or budget limitations. However, you can still look your best by choosing and matching neutral tones like light gray, beige, fawn, and off-white.
Jeans for men hold their own stance in rocking the whole apparel game in summers and winters both. Denim jeans come in handy to make a good and timeless expression that's gonna last for years to come and to make your dressing a talk of the town. So, pick for yourself the best while focussing specifically on the quality. As per the requirements for a good pair of jeans for men, Export mall is the best one-stop where you can have access to the premium quality, heavy-duty, economical, and impressive jeans pants all under one roof. So, what's the time to waste when fashion can be traced?