Mehwish Hayat is bold, sassy and everything classy! She is talented and hardworking but what sets her work stand out is her wonderful choice of scripts. She has often played the character of a strong woman in a patriarchal society. Mehwish understands that her work goes beyond entertainment and she has the responsibility to influence her audience. We believe that her service to the Arts and Entertainment industry has rightfully earned her the "Tamgha e Imtiaz" honor. She produced these absolutely delightful masterpieces with her impeccable talent. At The Entertainment Couch, we came up with a list of our personal favorite TV dramas and movies by Mehwish Hayat.
Mere Qatil Mere Dildar
This was an acting project early in Mehwish's career and she proved herself as no less than anyone else. There is something about Mehwish Hayat that she adds strength to every character she plays. Her character in this play, Mahum despite being troubled by her toxic in-laws, found a way to stand up for herself. Mahum comes out of her misery stronger than ever and we feel that no one personifies courage better than Hayat. She was nominated in the Best TV Actress category at the Lux style awards for her outstanding performance.
Dillagi
Dillagi was a treat for romance junkies. Mehwish played Anmol beautifully and yet again was a strong-headed girl who was opinionated and bold. Her on screen chemistry with Humayoun Saeed is commendable, which may be because the actors have shared the screen for several projects and are good friends. Anmol believed that every relationship's foundation must be laid on trust and mutual respect.
Load Wedding
Mehwish Hayat plays Meerub a polio worker from a small village. This was another one of Hayat's wonderful choices of scripts. Her projects usually shed light to society's many issues but Load Wedding tops the list because it handled the prevailing issue of dowry in a romantic-comedy film. The film also broke the social taboo around marrying a widow. Meerub managed to make her audience laugh and cry at the same time. Her performance in Load Wedding was widely appreciated and she won the Best Actress (Film) at the Lux style Awards 2019.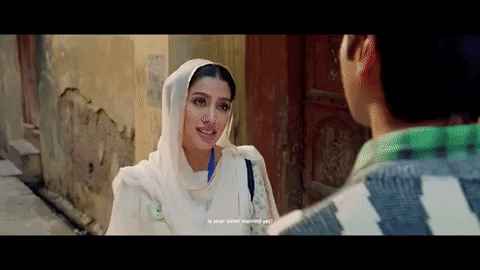 Billi (Na Maloom Afraad)
Mehwish Hayat's item number "billi" from the movie Na maloom afraad was the talk of the town. She may have offended some with her bold moves or may have excited others with her seductive beauty, we know we have all seen this one! We just had to add this one to our list. Whether some may not love this one, we believe that Mehwish did this dance number flawlessly! This performance became first of the many item numbers that followed.
Punjab Nahi Jaoungi
Punjab Nahi Jaoungi added another award to the collection of many that Mehwish has previously received for her performances. She won the International Pakistan Prestige Award for this film. She played Amal, a modern girl who chooses the village life for the man she loves. Amal is focused and has her priorities sorted. She manages to set up her own business in a village.