2020 has been a year full of surprises. While the year hasn't exactly been easy on the world due to the covid-19 pandemic, some people were lucky to find their happily ever after. Despite the chaos of this pandemic, it was heart-warming to witness some of our favourite people from the media industry tying the knot. The best part of celebrity weddings in 2020 was that it reminded us of what exactly weddings need to be like, simple, intimate and joyful!
Eman Suleman and Jamil Rizvi
Eman is one of Pakistan's leading models and we adore her for her eccentric aura. Eman married Jamil who is a Martial Arts trainer/Fitness instructor. They met in 2017 when Eman reached out to Jamil as a client interested in learning kickboxing. They fell in love and fast forward to January 11th 2020, they got married in a beautiful intimate ceremony. Eman's wedding was just as unconventional as she is. We loved everything about the wedding, their shadi mubarak banner brought back memories of older and simpler times. Eman and Jamil seemed carefree and to be enjoying their big day to the fullest.
Sajal Ali and Ahad Raza Mir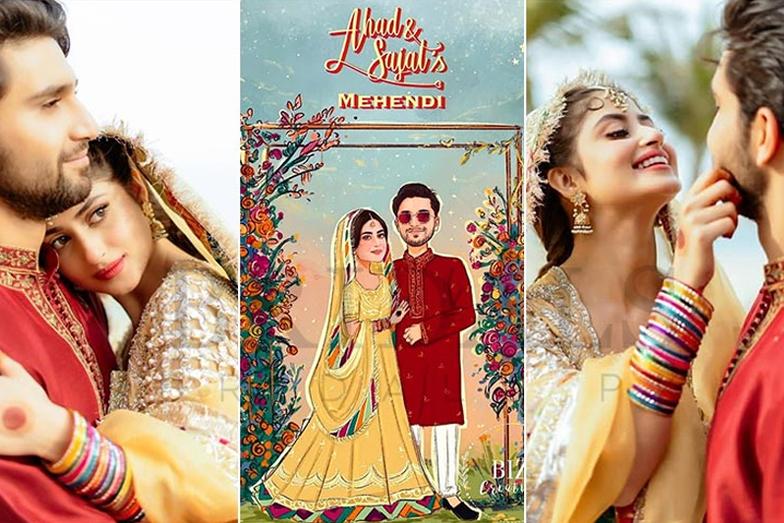 Sajal Ali and Ahad Raza Mir are both massive stars of the industry. Sajal has been acting from a very young age and has proven herself as extremely versatile. Ahad Raza Mir who stepped into the world of acting very recently gained immense fame in a very short period of time. Both the actors shared the screen for their project Yakeen Ka Safar and grew closer. They had a beautiful fairytale destination wedding in Dubai, UAE. Their union brought two fandoms together. The fans were delighted to see pictures from their beautiful marriage ceremony on march 14th, 2020.
Hina Altaf and Agha Ali
Hina Altaf and Agha Ali's marriage took their fans by great surprise. Agha was previously in a long term relationship with Sarah Khan and the couple had just recently decided to part ways. While their fans were still recovering from this heartbreak, Agha decided to tie the knot with Hina Altaf. The couple chose the auspicious day of "Juma tul Vida" for their nikkah. It was a simple and private affair with a very limited guest list.
Sarah Khan and Falak Shabbir
Sarah Khan (as mentioned above) was not the only one to move on quickly from a break up. As fate would have it, soon after Sarah Khan and Agha Ali decided to part ways, they found love and happiness with their respective partners. A few times after Falak had met Sarah, he knew she was the one for him and proposed to her. Sarah is a conventional girl who suggested that Falak should speak to her father. Soon after both families met and agreed to the proposal, Falak and Sarah were married in July, 2020.
Nimra Khan and Raja Iftekhar Azam
Nimra had a completely arranged marriage with Raja Iftekhar Azam, who works for the police in the UK. Their families have been friends for a while and it was the parents wish to get their children married. Nimra and Iftekhar were happy about this decision and got married on the 19th of April, 2020. It was a small event with only close friends and family.
Faryal Mehmood and Daniyal Raheel
Faryal and Daniyal have been in a relationship with one another for the past two years. Recently, the couple decided to tie the knot on May 28th, 2020. What caught our attention about their wedding event were their simple yet elegant and traditional outfits for their nikkah. The couple had a small ceremony with close friends and family to celebrate their union.
Sadaf Kanwal and Shehroz Sabzwari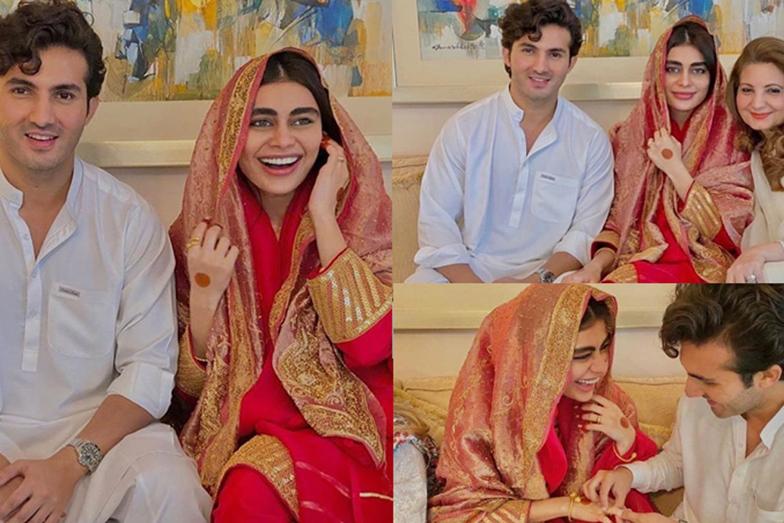 The couple was rumoured to be together for a while before their news of their marriage came out. While the couple initially denied all speculations by their fans, their marriage did leave their fans surprised. Sadaf and Shahroz too had a simple nikkah that only their families attended on May 31st, 2020.
Samina Ahmed and Manzar Sehbai
This may be the last couple on the list but it is definitely our most favourite. Samina Ahmed and Manzar Sehbai are two living legends of the Pakistani media industry and their union was something no one could have speculated. What makes the couple so special is that they broke all taboos around the notion of getting married at an older age. Fans actually found out about the wedding until after it actually happened. On April 4th they both had a very simple and private nikah, as both stars chose to keep their personal lives away from the limelight.