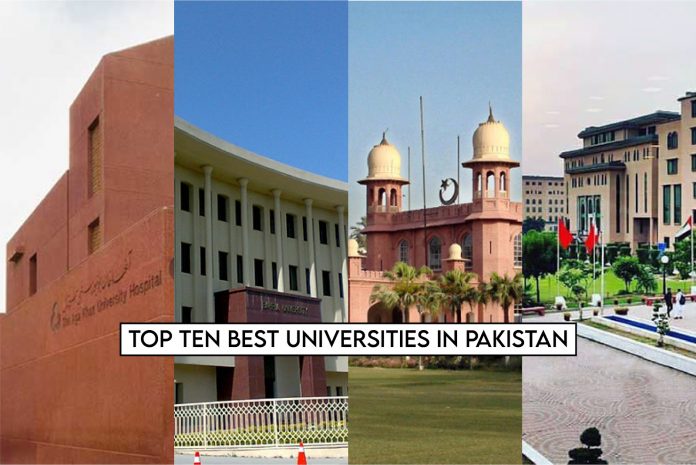 The earliest degree granting university in Pakistan dates back to colonial times. The British played a major role in establishing a diverse range of universities that catered to various disciplines. Notable among those universities was the University of Punjab, University of Engineering and Technology, King Edward Medical University, and Government College University. Since then, businessmen, politicians, and entrepreneurs have played their part in establishing universities in Pakistan which offer degrees in a diverse range of disciplines. Graduates from the best universities in Pakistan have earned recognition throughout the world as disciplined, creative, and hard-working individuals. Below is a list of the top ten best universities in Pakistan, most of which are located in the capital of Punjab, Lahore.
(NOTE: This ranking is in accordance to the one published by the website 4icu.org.pk.)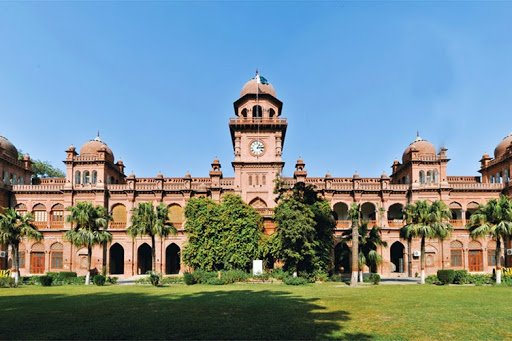 1. University of the Punjab, Lahore
Established about 138 years ago, University of the Punjab is the oldest public sector university in Pakistan. Punjab university was the fourth university set up by the british in United India, which was known as Hindustan back then. Dr. Gottlieb Wilhelm Leitner, a notable Hungarian academic and linguist, played a vital role in establishing this university. As of today, Punjab University has campuses in multiple other cities besides Lahore, including Jhelum, Khanspur, and Gujranwala. According to the current data, 45,678 students are studying in this university across 13 different faculties. Punjab university is recognized on account of its versatility for there are 83 academic departments including faculty of arts and humanities, faculty of education, faculty of law, faculty of Islamic studies, faculty of engineering and technology and faculty of health sciences, among others.
It has made its mark among the top universities in Pakistan and has drawn distinguished academics from all over the world. Dr. Arthur Compton, who won the Nobel prize for discovering the Compton effect and who was otherwise an acclaimed professor, researcher, and academic, was a lecturer at the University of Punjab and Government College University, which was affiliated with the aforementioned UoP. Graduates of UoP have gone on to do incredible and beneficial things in innumerable fields, such as Shoaib Mansoor in the field of film and I.K Gujral, who was the 12th prime minister of India. Lawyer and human rights activist Asma Jehangir, never ceased to stop fighting for justice, whereas, alumni Allama Muhammad Iqbal wrote thought-provoking poetry which has positively influenced the generations to come.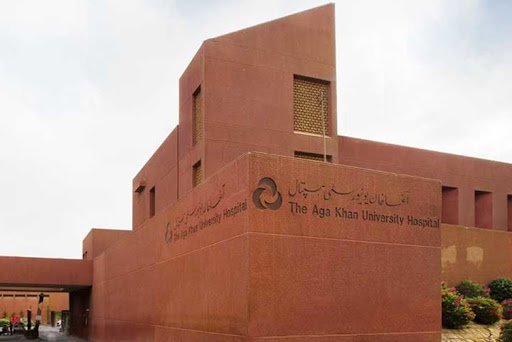 2. Aga Khan University(AKU), Karachi
A much sought-after university for medical students, Aga Khan University was inaugurated in 1983 by Prince Aga Khan IV. It has made its mark as the country's first international and private university and is among the top 10 universities in Pakistan. Besides Pakistan, AKU has campuses in Kenya, Tanzania, Uganda, Afghanistan, and the United Kingdom. This university has distinguished itself from other medical universities in Pakistan because a hospital, midwifery center, Graduate school of Media and Communicates, an Institute of study of Muslim Civilizations and human development are under the tutelage of AKU. The Aga Khan university hospital tends to 2 million patients per year in Pakistan's most densely populated city. AKU has been appreciated by the international community on account of its appreciable approach to developing Pakistan's healthcare system.
The Karachi campus of AKU spans over 84 acres or 340,000 cubic meters. Along with classrooms, labs, and auditoriums, the campus has hostels for male and female students, a rehabilitation center with state-of-the-art equipment. With an impeccable swimming pool, vast tennis and squash courts, and an indoor gymnasium, the sporting facilities are exemplary. These graduates of Aga Khan University have gone on to treat and serve patients from all walks of life whilst also making their mark in other countries, especially the United States. Prominent graduates include brothers Naeem and Fahim Raheem who are working towards providing better health facilities in the far-flung areas of the United States.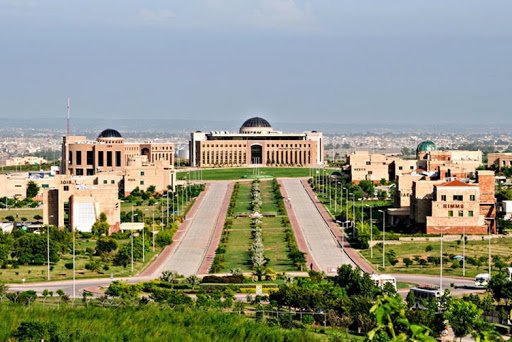 3. National University of Science and Technology (NUST), Islamabad
With its main campus in Islamabad and sub-campuses in Karachi, Rawalpindi, and Risalpur, NUST is recognized among the best universities in Pakistan. It was established in 1991 under the guidance and instruction of the Pakistan armed forces. After the inception of NUST, military schools and colleges were merged with the university's campus. According to available data, the student body at NUST includes 7197 students across 31 varied disciplines including engineering, business, economics, psychology, biosciences, mass communication, development studies, basic sciences, and supply chain. Under the supervision of 817 faculty members, NUST provides Bachelors, Master, M.Phil and PhD degrees.
NUST aims to deliver quality education which will ensure that the country industrializes at a fast rate. Thus, NUST has molded its system and manner of teaching in accordance with the educational system of the United States. It has 5 university research journals catering to the fields of engineering, business, natural sciences, and medicine. Furthermore, NUST has carried out numerous collaborations with international universities including Stanford University, Tokyo Institute of Technology, and Denmark Technical University to communicate ideas, deliver knowledge, and present research findings.
4. Lahore University of Management Sciences (LUMS), Lahore
A multi-disciplinary institution, LUMS was established in 1984, after being granted a $10 million dollar donation from the United States. It has gained a reputation as the top 10 university in Pakistan. The University has 5 schools, the most notable being Suleman Dawood School of Business. In the subsequent years, the university introduced a school of humanities and social sciences, science and engineering, law, and education. LUMS started its National Outreach Program (NOP) in 2011. The purpose of this program was to provide an all-encompassing financial assistance program that catered to bright students from lower-income backgrounds. Additionally, LUMS also offers a 20-100% concession on tuition fees for all enrolled students.
The campus includes classrooms, lecture halls, auditoriums, research labs, and computer labs for academic purposes. It also provides accommodation for male and female students who are not residents of Lahore. The recreation facilities include a sports complex which has a gym, cricket ground, and courts for basketball, tennis, and squash. The library provides online learning resources along with 350,000 books, 128,00 e-books, and 35,000 journals. From politician Hina Rabbani Khar, Computer scientist Umar Saif, historian Ayesha Jalal, and mathematician Ismat Beg, LUMS has produced brilliant graduates who have gained a notable reputation throughout the world.
5. University of Management and Technology (UMT), Lahore
UMT was founded in Lahore in 1990 by Dr. Hassan Shoaib Murad. It also has a sub-campus in Sialkot. UMT has gained prominence amongst other universities on account of its research facilities and activities. UMT is a private and non-profit institution that offers undergraduate and postgraduate degrees over an extensive range of disciplines. There are 50 BS programs, 20 Masters programs, 40 MS/Mphil programs, and 16 PhD programs, including engineering, social sciences, management, law, English language, finance, economics, etcetera.
The 200+ Kanal campus includes a variety of facilities for staff members and students. It includes lecture halls, classrooms, libraries, resource centers, cafeterias, laboratories, and sporting facilities. UMT allows its students to gain exposure and explore themselves by participating in a range of extracurricular activities including drama, debating, sports, social welfare, arts, etc. Noteworthy alumni of UMT include author Sara Naveed, acclaimed cricketer Misbah-ul-Haq, and member of European Parliament, Sajjad Karim.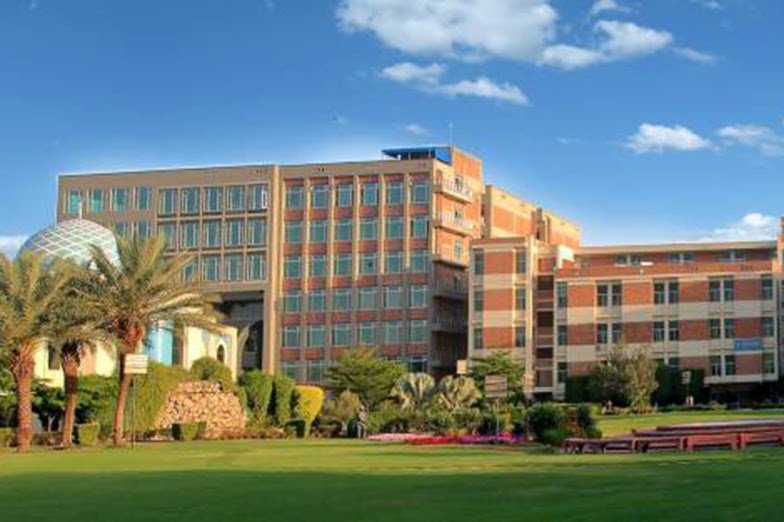 6. The University of Lahore (UoL)
The University of Lahore has a total of 7 campuses, spanning over different cities including Sargodha, Pakpatta, Gujrat, Islamabad, and Lahore. The Lahore campus, spanning over 4 acres and 7 kanal, was founded in 1991. It is among the leading private universities in Pakistan because it provides graduate and post-graduate programs in multiple faculties including allied health sciences, arts & architecture, engineering & technology, law, language and literature, medicine and dentistry, management sciences, pharmacy, sciences, and social sciences. The students comprise 36000 plus local and international students, who are under the guidance of the university's 1650+ academic staff. The university's campuses include hostels for male and female students, lecture halls, guest rooms, common rooms, a mosque, and speedy WiFi.
7. COMSATS University, Islamabad
An outstanding university, COMSATS is among the top universities in Pakistan. In the year 1998, COMSATS was set up by the Commission on Science and Technology for Sustainable Development in the South. COMSATS is a public sector university, which was founded by S.M Junaid Zaidi who remained the university's rector until 2017. There are 8500 students enrolled in the Islamabad campus. The sub-campuses in Abbottabad, Attock, Vehari, Wah, Sahiwal, and Lahore have about an additional 30,000 students. COMSATS offers a myriad of programs including degrees in Economics, Business Administration, Computer Science, Engineering and Technology, Literature, Basic Sciences, etc. In an attempt to cultivate entrepreneurial skills in its students, COMSATS has launched the Student Startup Business Center (SSBC).
COMSATS has ensured that its graduates perform brilliantly in their professional lives. For instance, alumni Atta ur Rehman Khan has done incredible research in the field of computer science. Graduate Shafeeq Gigyani has done notable social work in Pakistan, whereas alumni Junaid Ali has made his mark as a brilliant researcher.
8. Bahria University, Islamabad
Bahria University is among the best universities in Pakistan. It is located in the country's capital, Islamabad and was founded at the start of the new millennium. Bahria University is under the tutelage of Pakistan's economy and it is recognized as a semi-government university. Aside from Islamabad, Bahria University has campuses in Islamabad and Karachi. It is an interdisciplinary university, with disciplines ranging from Business Administration, Engineering and Technology, Medical and Health Sciences, Media Studies, Psychology, Social sciences and Law. A number of universities are affiliated with Bahria University including Shifa College of Medicine, Shifa College of Nursing, Frontier Medical College, Islamabad Medical and Dental College, Yusra Medical & Dental College, Institute of Teachers Education, Rawal Institute of Health Sciences, and Bahria University Medical and Dental College.
Additionally, Bahria University has established ties with 21 renowned international universities including Massachusetts Institute of Technology, USA, University of Leicester, USA, University of Nottingham, UK, etc. To cultivate creativity, ingenuity, discipline, and teamwork in its students, Bahria University offers an extensive range of extracurricular activities. Students may be associated with the drama club, events club, literature and debates club, IEEE, Bahria University Law Society, Bahria Visionary Club, etc. It is affiliated with PEC, HEC, PMDC, ACU, and NCEAC.
9. University of Engineering and Technology, (UET), Lahore
University of Engineering and Technology was formed in 1921 and was initially known as Mughalpura Technical College. In 1932, its name was changed to MacLagan Engineering college, after the presiding governor of Punjab, Sir Edward Douglas Maclagan. Over the years, the university has expanded to include various faculties related to engineering and technology. Among its faculties are architecture and planning, earth sciences, electrical engineering, mechanical engineering, chemical engineering, natural sciences, and humanities. The oldest degree-granting program, which exists to this day, is a bachelors in mechanical and electrical engineering. As time has progressed, UET has opened up campuses in Gujranwala, Kala Shah Kaku(KSK), Narowal, Faisalabad, and Taxila.
The main campus in Lahore is home to the National Library of Engineering Sciences. It includes 125,000 volumes of books, 22,000 volumes of bound serials, and 600 issues of scientific and technical journals. UET is affiliated with the higher commission of Pakistan, Pakistan Engineering Council, Pakistan Council for Architects and Town Planners, and the Washington Accord. UET remains distinguished among engineering universities in Pakistan. Recognizable alumni of UET are singer and preacher Junaid Jamshed, Politician Mehreen Faruqi, former finance minister Ahsan Iqbal, and owner of Lahore Qalandars, Fawad Rana.
10. University of Agriculture, Faisalabad
A one of a kind university, Faisalabad's University of Agriculture was established in 1906. It solely deals with disciplines related to agriculture, food engineering, farm machinery and power, structures and environmental engineering, veterinary sciences, fiber and textile technology, and social sciences. The campus spans over 2550 acres or 10.3 cubic kilometers. It also has sub-campuses in Toba Tek Singh and Burewala Vehari. According to data collected in February 2018, there were 29,000 students enrolled in the university.
The importance of this university can be attested to by the fact that Pakistan has an agrarian-based economy. Thus, it is vital for researchers and scholars to come up with ingenious solutions to eliminate prevailing problems and increase productivity. It has two state-of-the-art and technologically advanced laboratories which ensure that researchers can carry on with their work in an efficient and systematic manner. Furthermore, the university offers 22 first-degree courses, MSc in 35 subjects, and PhDs in 28 different subjects.
Hopefully, now you know about the reputable universities in Pakistan. if you are looking to seek a degree in medicine, engineering, business, social sciences, languages, and law, then you need not spend a plethora of money studying abroad. Look through the list of the top ten universities in Pakistan. The graduates of these universities have contributed vastly in the fields of entertainment, science, business, economics, law, and literature, and you can be counted among them if you work with consistency and dedication.